The Best Provider of Metallic Epoxy Flooring in Salt Lake, Davis, and Utah Counties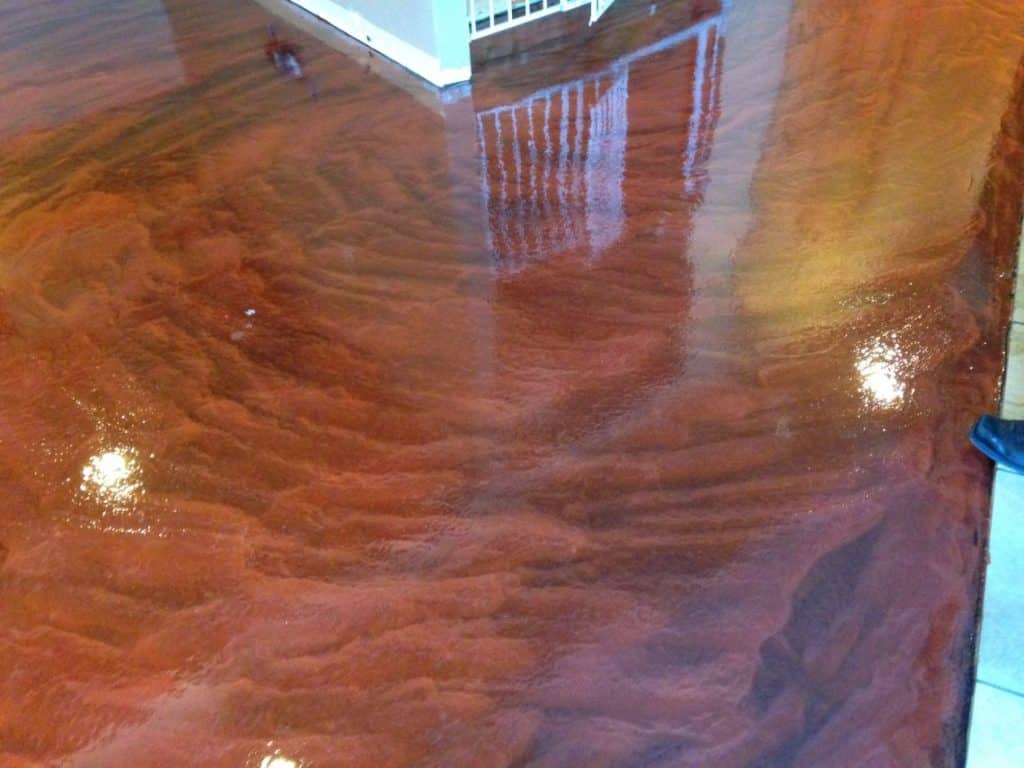 Transform your concrete floors into a luxurious marble-like finish with our Metallic Epoxy Flooring. At Utah Epoxy Company, we provide high-quality metallic epoxy floor coatings that create an unlimited variety of patterns and colors. No two floors are ever alike, even when using the same metallic pigment powders.
Our Metallic Epoxy Floor Coating System
Utah Epoxy Company's Metallic Epoxy Floor Coating has an almost 3D look because of our three distinct layers of epoxy. We start with a high-performance epoxy primer in black, except for very light colors which require a medium gray. A brilliant black epoxy is more expensive to produce than other colors, but it provides the best effects for the metallic epoxy look.
After applying the primer, we mix metallic pigments into a special high-build clear epoxy to create the metallic layer. Then, we finish the process by adding a military-grade topcoat to create a 30mil thick finished floor with a 4mg abrasion loss rating.
It's important to note that the lower the abrasion loss rating, the better the coating. Our professional-grade flooring system is unlike one or two layer systems or water-based systems. Not only can the competition not match our finished looks, but they won't last nearly as long.
When comparing the abrasion ratings, you'll see that our rating of 4mgs is significantly better than the 20mgs or higher ratings of competitors. Abrasion is the most important factor when considering any epoxy floor coatings because it can dull and wear out the floor over time.
This process is done in 4 steps:
We apply a high-performance epoxy primer in black (or medium gray for very light colors).
We mix metallic pigments into a special high-build clear epoxy.
We apply the metallic epoxy layer over the primer.
We finish with a military-grade topcoat to create a 30mil thick finished floor with a 4mg abrasion loss rating.
Why Choose Utah Epoxy Company for Your Metallic Epoxy Flooring?
At Utah Epoxy Company, we only use 100% Aliphatic Epoxy and Military-Grade Topcoats. We do not use Cycloaliphatic Epoxy or water-based epoxies, and we don't use clear versions of the epoxy with just a UV additive and say it's a topcoat. Our topcoat will result in a 4 mg abrasion rating, as opposed to much higher loss ratings from every other brand. Most brands have an abrasion rating of over 25mgs. That is not going to keep your floor looking new for very long. With our high-quality metallic epoxy floor coatings, you can be confident that you're getting the best.
We provide the best-equipped metallic epoxy flooring kits, which include our high-performance 2 gallons of black high-performance epoxy primer, metallic powder of your color choice, 6 gallons high-build clear epoxy, military-grade clear topcoat, rollers, mixer, metallic application squeegee, spike soles, and acid etching solution. We also offer free shipping. Please note that we do not ship nonslip with this kit, as it tends to dull the metallic shine, and therefore, the floor will be slippery when wet. If nonslip is desired, order one industrial nonslip unit per kit. You can use a little less than a full unit to limit the effect on the finish and still have some grit on the floor.
Why Metallic Epoxy Floor Coatings?
Putting down a unique and beautiful epoxy finish that isn't going to last makes no sense. Don't be fooled by lifetime guarantees. Read the fine print, as they only cover delamination and only if you do just about the impossible. Our epoxy provides a five-year warranty across the board, including wear. No other manufacturer provides you with a warranty against wear because they can't. Their products don't hold up to abrasion like our epoxy floor will. So you may save a few dollars by not choosing an Metallic Epoxy kit and have your metallic epoxy adhered to your floor, but it will dull, yellow, and wear off in a short order. With our metallic epoxy floor coating, you'll get the best quality and long-lasting durability that can withstand the harsh weather conditions of Salt Lake, Davis, and Utah counties.
Metallic Pigment Powder Colors
To view all our metallic epoxy floor colors please click here
Use any of our standard Metallic Pigment Powder Colors. Each kit comes with enough metallic powder for one complete color, and you can add in any additional color you want as an accent color. So, the only limit is your imagination. To do an accent color, simply select the Accent Option in the drop-down menu. You will receive approximately an additional 1/2 gallon of epoxy and one unit of metallic color powder of your choice. Please indicate your accent color choice in the accent color comment box. See the Instruction Tab for application.
User Technique and Quality of Metallic Epoxy Floors
Metallic floors are very technique and user-dependent. That is why they never come out the same. One thing that will be the same is the Utah Epoxy Company quality and durability not found in other brands. Please be sure to read the instructions by clicking on the Instruction Tab. Results and actual color can vary drastically depending on user technique. With Metallic Epoxy Floors, there's no way to know what the final finish will look like because it's different every time. Color variations and the final finish will differ from listed images and are not considered a product defect and, therefore, are not covered under any guarantee. Any brand that does not make the above clear to you is not being fully open and truthful with you!
Get the Best Quality Metallic Epoxy Flooring Today!
At Utah Epoxy Company, we provide the best quality Metallic Epoxy Flooring that can withstand the harsh weather conditions of Salt Lake, Davis, and Utah counties. Our metallic epoxy floor coating system is the best in the industry and is sure to provide you with a long-lasting, durable, and beautiful finish that will transform your concrete floors. Contact us today at 801-515-0892 to get started on your project and experience the difference in quality and durability that our metallic epoxy flooring can offer.
Metallic Epoxy Floor Frequently Asked Questions