Full Chip Concrete Coating Colors
(hover and click to view each color type)
Full Chip Decorative Concrete Coatings
Utah Epoxy Company, operating under Garage Force, offers a Full Chip or Decorative Chip concrete coating system that provides your concrete surface with the ultimate protection, durability, and high-gloss shine. Our unique two-layer system is easy to install and cures in just 1-3 hours, minimizing downtime.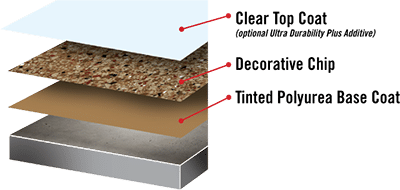 Key Benefits of the Decorative Chip System
20x Stronger than Epoxy
Quick Cure Time — Decreased Downtime
Ultimate UV stability
Anti-slip Surface
Resistant to Salt, Oil, Gas, and Grease
The Decorative Chip System is more than just a beautiful surface; it's also incredibly strong, providing 20 times more strength than traditional epoxy coatings. This concrete coating is UV stable, anti-slip, and resistant to salt, oil, gas, and grease, making it ideal for both indoor and outdoor applications. Whether you're looking to protect your commercial auto shop or your residential garage, the Decorative Chip System provides the ultimate protection for your concrete.
Contact us today for a free price quote and to schedule your installation. Our team will work with you to ensure that your concrete surface is protected and looking great for years to come.