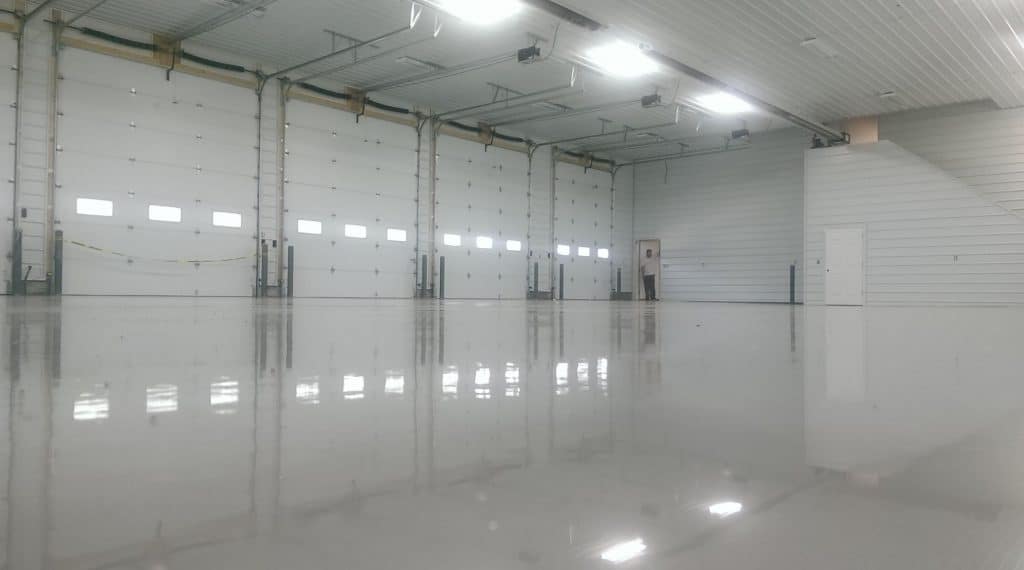 Build A Reliable Epoxy Warehouse Floor
Epoxy is one of the durable floor coating materials available in Utah. Its ability to resist abuse from industrial applications makes it the flooring of choice for business owners. It also adds a professional look and makes warehouse personnel feel safe in a closed environment.
Utah Epoxy Company dedicates its expertise to provide epoxy warehouse floor services. If you want reliable flooring for your warehouse, look no more.
Warehouse Floor Epoxy Service In Utah
We don't recommend you to keep your concrete floor exposed to your warehouse. A coating of epoxy can prolong the floor's lifespan and protect it from damage and wear and tear. A professional application can maximize the benefits of epoxy when used on warehouse floors.
What Happens To A Warehouse Without An Epoxy Flooring
A warehouse floor needs to withstand regular accidental drops, skids, and traffic. It also needs to protect the products from temperature fluctuations, dirt, and moisture. A warehouse floor without an epoxy coating can have trouble achieving those requirements. It also requires a professional application because epoxy flooring benefits are only achievable through proven techniques and tools.
Bare concrete without epoxy covering adds moisture to the air. You're also risking your products from potential damages aside from leaving your concrete floor vulnerable.
Benefits Of Professional Epoxy Flooring For Your Warehouse
Epoxy flooring is a go-to solution for several warehouse owners. It also adds aesthetic value to the property because of its design and color flexibility.
Reliable And Durable Flooring
Protect your warehouse floor using an epoxy coating, so you can enjoy durable and reliable warehouse grounds. You don't want a warehouse floor that cracks or chips easily. Epoxy flooring is also easy to repair, so you only need to take care of your products from falling and not worry about your floor.
Low Maintenance Warehouse
Warehouses require frequent sweeping of accumulated dust. It requires heavy cleaning, but because it's waterproof and chemical resistant, you don't need to worry about the chemicals you use to clean the floor.
Weatherproofing
Utah weather dives below the freezing point during winter and can reach around 100°F in summer. This temperature fluctuation is harmful to products inside the warehouse. Keeping your flooring unprotected without epoxy coating compromises your warehouse's quality no matter how much insulation you place on its walls and ceiling.
Cost-effective Investment
Warehouse leasing typically lasts for a year. But with a long-lasting and reliable floor, a warehouse can provide a long-term stream of income. Epoxy only costs around $3-12 per square foot, but it can last for at least two decades, which makes it an excellent choice.
Contact Your Local Epoxy Flooring Service Company For Your Warehouse
We provide epoxy warehouse floor services around Utah. We can provide fast yet high-quality epoxy flooring for your property as local professionals. So if you're searching for epoxy flooring services in Utah, look no more than Utah Epoxy Company. Contact us today and enjoy the benefits of epoxy flooring in your warehouse.