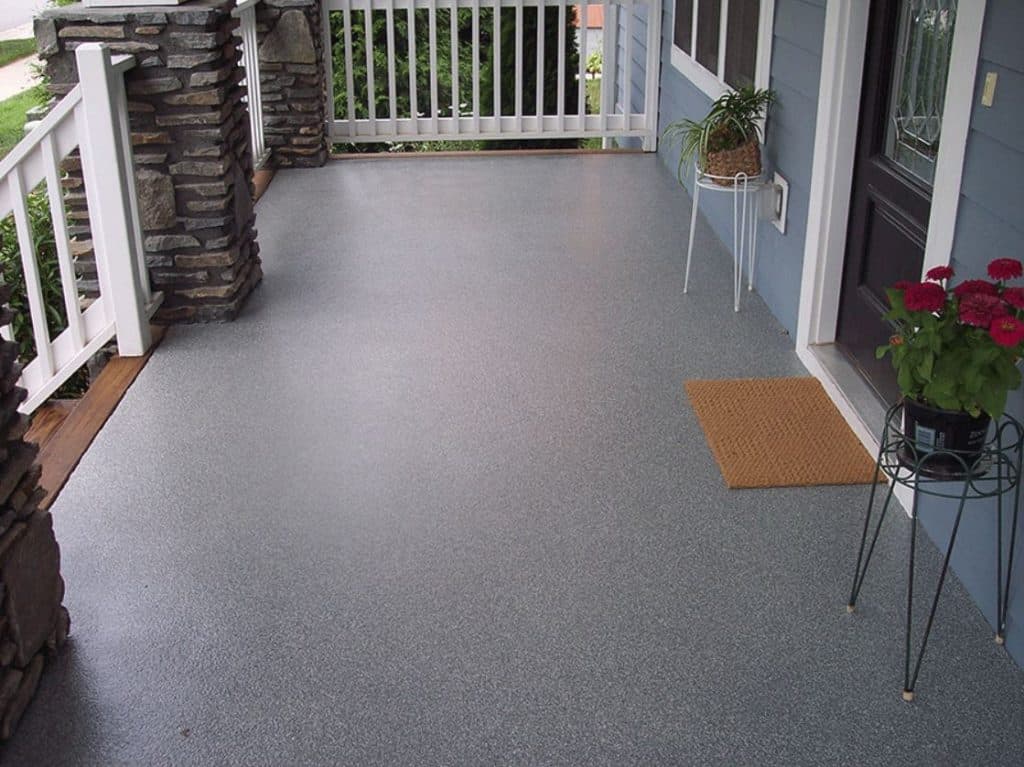 Enjoy Aesthetic And Reliable Patio
Utah Epoxy Company Patio Epoxy Service
Outdoor spaces like patios require a coating that is inexpensive and easy to maintain. Elements can damage your precious patio and prevent you from enjoying your outdoors. The attractive yet durable solution to keep your patio beautiful is an epoxy covering.
Utah Epoxy Company provides excellent quality epoxy solutions for different applications. Do you want your outdoor flooring to survive Utah's climate? Read on to learn more about patio epoxy service near you!
Epoxy Patio Application In Utah
Your local professionals Utah Epoxy Company is your reliable companion to protecting your flat concrete structures. We truly understand how you need your patio to sustain its beauty in Utah's climate. That is why we provide epoxy coating services. Our expertise helps us do it with supreme quality getting the best value for your money and time.
Why Do You Need To Protect Your Patio With Epoxy
Exposing your outdoor concrete to the harsh elements of Utah will provide you undesirable results. As experts, we know that the climate here hurts concrete so bad.
Winters in Utah dive down to less than 40°. It causes flaking and spelling for the concrete surfaces. It makes the concrete prone to more damage when it happens continuously without an epoxy coating as protection.
Freeze and thaw cycles in Utah makes the concrete expand and contract. Sudden temperature shifts will shock a concrete without epoxy. It causes damage above and below the strong yet brittle material used for your patio.
Epoxy has a broader temperature range of service because of its better flexibility than concrete. That is why we recommend protecting your patio with an epoxy coating.
Benefits Of A Professional Patio Epoxy Coating
Epoxy is durable, cost-effective, and low maintenance. Enjoy these benefits when covering your patio with epoxy. Here is what you will get after professional epoxy coating services from Utah Epoxy Company.
Durable Patio Coating
Our professional patio epoxy service will help your patcher survive outdoor temperature fluctuations. Our experts learned state-of-the-art techniques from years of applying epoxy coating around Utah. Proper epoxy installation is a requirement to reap the benefits of its durability.
Low Maintenance Patio
Have one less worry for your property maintenance by applying epoxy to your patio. Backyard vegetation damages unprotected patios without epoxy, but with a synthetic protective coating, you don't need to keep cleaning your patcher to maintain its color and form.
Cost-Effective Patio Protection
Expect that a protective layer made by Utah Epoxy Company will save you from unnecessary frequent cleaning and repairs. Our high-quality tools help us create an excellent epoxy application process.
Decorative Quality
With an epoxy that protects your patio, you can select the color that will last for a long time. We also use UV protecting layers to keep a long-lasting decoration that matches your garden ideas. Epoxy coated patio suits vintage and modern houses alike.
Waterproofing Solutions Without Compromising Function
Waterproof patios don't necessarily mean that it has a glossy finish. We apply a sand coating to make an epoxy covered patio walkable and protected simultaneously.
Protect Your Patio With Epoxy Today
It's our pleasure to be a part of your next property improvement. Our continuous patio epoxy covering services in Utah will get you satisfying results. Connect with a Utah Epoxy Company staff and begin upgrading or patio now!