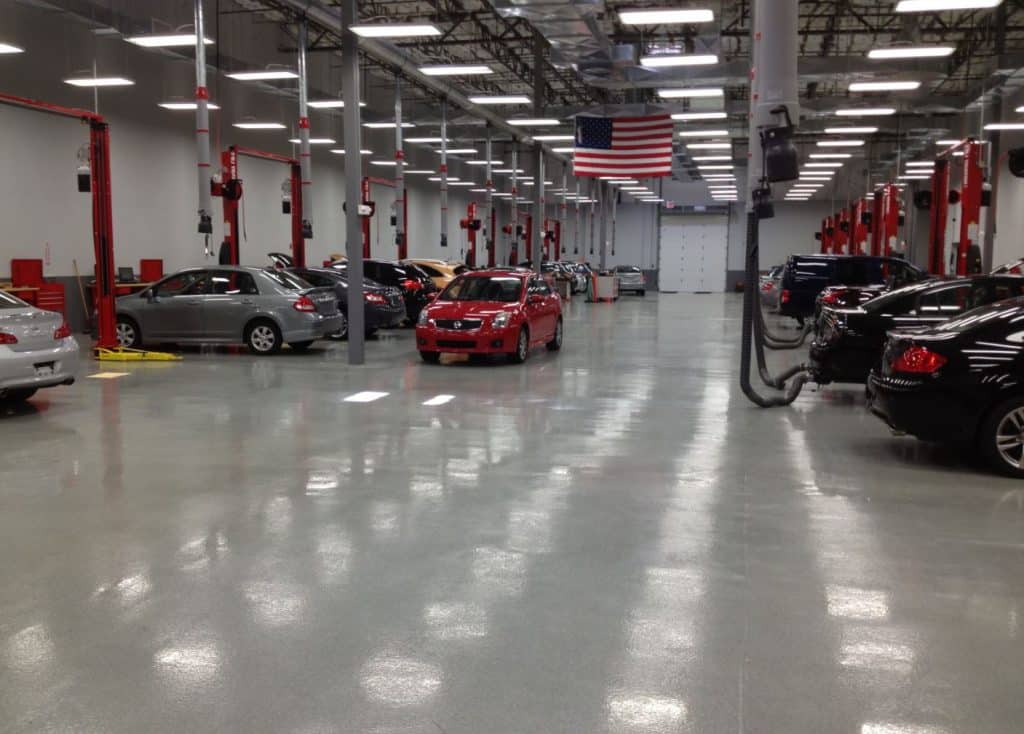 Enjoy The Benefits Of Epoxy Shop Floor
Using epoxy flooring for a commercial and industrial shop floor has been standard practice for a long while. Epoxy became the first go-to material especially for automotive shop floors in Utah to protect them from oil spills and the likes.
Utah Epoxy Company has been providing epoxy shop floors for several years. Let's discuss how your shop floor in Utah can benefit from our services.
Shop Floor Epoxy Service In Utah
Epoxy flooring is one of the most durable types of floor coating. It can prevent oil, water, or any liquid that can ruin or damage your floor from penetrating. Utah Epoxy Company can help develop your workplace if you're planning to build or repair your shop floor.
Benefits Of Epoxy Flooring For Your Shop
An epoxy shop floor meets several environmental and safety standards. The best thing about epoxy is that it can protect your shop floor for a long time at a low cost. No other coating material and finish can easily top that.
Below are a few more benefits that epoxy has if you use it in your commercial or industrial shop.
Unparalleled Durability
Epoxy has a strength of 10,000 psi, and other types of epoxy can go way past that. You can even add another coating on top of epoxy to strengthen the surface more. You can make the most out of your space when placing a variety of equipment for your shop. Rest assured that your floors won't be easily damaged if you drop a tool or two on them.
Requires Little To No Maintenance
Epoxy offers prolonged low maintenance benefits because of its durability. A shop floor coated with epoxy doesn't require regular maintenance except for sweeping or mopping.
Waterproof
Epoxy can protect your concrete from water penetration. You wouldn't worry about moisture damaging, warping, or rotting your floor.
Unprotected, your concrete floor can easily suffer from cracks and algae. You wouldn't want that to happen as it can introduce work hazards in your shop..
Cost-Effective Flooring
Epoxy only costs around $3–$12 per square foot. It also lasts for roughly a decade and is also easy to repair or replace. Combining the strength and longevity of epoxy flooring will get you cost-effective results. That is why using epoxy flooring for your shop floor might be one of your best decisions.
Flat, Level, And Safer Floor
To coat a floor with epoxy, you often just need to pour the epoxy mix on the floor and let it flow as it cures by itself. What happens is that it levels itself flat if properly applied.
You won't need to worry about rough and uneven surfaces, grout lines, and slippage.
Protect Your Shop Floor With Epoxy
We provide excellent epoxy flooring installation services around Utah. We commit our expertise to help shop floors in Utah and let them enjoy the benefits of epoxy flooring. We can offer you services in no time. Contact Utah Epoxy Company for a quote today, and enjoy the benefits of epoxy flooring!